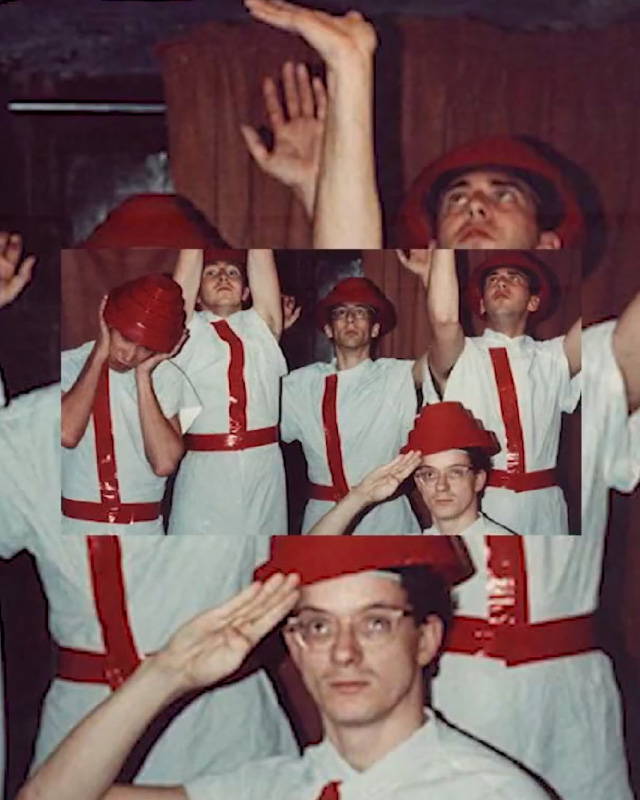 Devo / Slam Jam Reverse Evolution
«The more technology you have, the more primitive you can be». In the late 70s, these were the words used by Devo to explain how their music was de-evolutionary: «With synthesizers you can express guttural sounds, bird noises, brain waves, blood flow...».
They were fully aware that getting so primitive would make them an avant-gard band, what they didn't expect was that their satirical warning of reverse evolution could be surpassed by reality: de-evolution is real. Devo is now.
From Casale and Mothersbaugh's point of view progression was over, human evolution was going backwards, de-evolving always more into its previous self. The band had a name: Devo.
Still active today, Devo has always been something more than a rock group and their work has always gone far beyond music. Casale and Mothersbaugh started a multi-media project that embraced design and visual art: from their iconic, d.i.y yellow hazmat suits and the customized red energy dome helmets – to their groundbreaking music videos and stylish merch, Devo created their own alternate world and reality.
40 years after Beautiful World, Slam Jam pays homage to Devo's visionary art with a capsule collection inspired by Casale & Mothersbaugh's interpretation of the reverse evolution theory.
Sharing Devo's same attitude, the project aims to give a new shape to devotee's uniforms and their unique, dystopian assembly line style. The capsule collection includes two retro futuristic technical items such as one silver tracksuit and one black jacket: both of them are a tribute to the band's most iconic outfits.
And the Devo ziggurat helmet logo wraps the black intarsia knit jumper, another outstanding piece of this street joint-venture. The black hoodie has a 70s Devo picture on the front and the Reverse Evolution print on the back, with hood and front pocket made with reverse fabric. Last but not the least, the graphic t-shirt available both in black and white: one with the Reverse Evolution claim print and the other one with a picture of the band shot after a show in 1977.
Back then, before Devo hit Max's Kansas City stage in NYC, David Bowie introduced them as «the band of the future». He was right, Devo was right: de-evolution is real. Is it too late? Lucky for us, we still have Devo's art and there's always somebody who wants to carry the torch. Slam Jam's devoted tribe is here to help.
Collection title: Devo / Slam Jam Reverse Evolution
Product preview is not available on Shogun App for collections.
This block will be excluded from: